ADM-dateTimePicker
Pure AngularJs Gregorian and Jalali smart dateTimePicker by ADM | Amirkabir Data Miners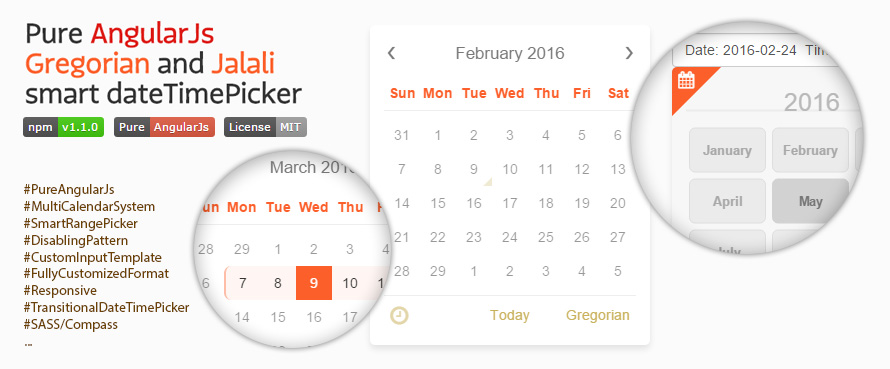 Updates in V1.1.9
Rediuce stylesheet size by 70%
Fix unused font dependency
Updates in V1.1.6
Fix bug for converting Gregorian dates after 2017/1/1
Prevent today button from posting form
Fix datePicker input stucking by pasting date
Updates in V1.1.0
Remove all other dependencies. (Bootstrap, Glyphicon, Fonts)
Add month and year quick select.
Date format is now fully customize with any combination of YYYY, YY, MM, DD, hh, mm.
Add custom input template option inside directive.
Add option to freeze input to prevent user from changing text.
Add option to hide time from dateTimePicker.
Add option to auto select current day, by puting 'today' in default parameter.
Fix bugs on IE9.

---
Demo
See ADMdtp live HERE.
---
Install
npm install adm-dtp
bower install adm-dtp